TaxExemptWorld has an enormous amount of free information on over 2 million 501c3 and nonprofit organizations across all US states and territories with total assets over $5 trillion!
Run searches to download organization lists by name tax id(ein) 501c classification zip code city county metro area state advanced
Form 990 pdf files are also available going back to 2008.
What is a Form 990 file?
A
Form 990
is an information return filed by a nonprofit with the IRS that shows extensive details on an organization's income, assets, expenses, executives, directors, salaries, compensation, investments, and more
Sample 990 Files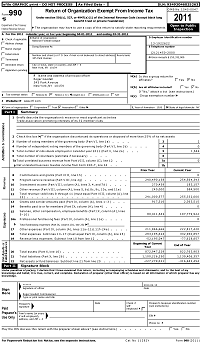 Phone numbers and other contact info for an organization are typically included in 990 files.
Download Form 990 Files with a membership or data download
What is a Data Download?
A data download file - available for any search - includes organization details plus links to available form 990 pdf files for the organization or list of organizations you're downloading.
Select among various file formats for the download(ms excel, ms access, csv, or tab delimited text file).
The data download will allow you to view, sort, and filter info offline for more in-depth use.
The form 990 links in the data download will allow you to access those files at any time now or in the future. See here for more info.
When will I get my Data Download File?
Immediately - data downloads are instantly created for you. You select a file type, make payment, and get a link to download the file.
A customer support phone number will also be given to you in case any questions or technical issues come up. Feel free to call us!
What does a Membership Include?
Memberships are either monthly or annual.
Both membership types include unlimited form 990 pdf downloads plus advanced searching, sorting, and viewing of the entire database of information.
Annual memberships also include unlimited spreadsheet data download files.
Contact

A customer service phone number is provided with a membership or data download.
This website is an information service and is not affiliated or associated with any nonprofit or 501C tax exempt organizations. The data on this website is public record information made available by the Federal Government and was most recently updated on 1/17/2016. There are over 2 million nonprofit & 501C tax exempt organizations with Income of almost $4 trillion dollars and Assets of over $5 trillion dollars!